Hello SISters,
How are you doing?
I hope you are as well as I am and you know why? Because we had a beautiful declaration that you as a SISter probably already know…
If you don't know what I'm talking about, click HERE. 
I am not here to talk about the events of the week, we have several posts focused on that. My goal is to bring more content to your life and not just fill in the Droughtlander but also enlarge your list of books to read, movies and series to watch.
Have you ever heard of the story of a sword stuck in a rock that could only be withdrawn by a pure-hearted person?
Or of certain warrior leader and his roundtable? Who knows the story of a magician who was responsible for the education of a boy who apparently was nobody?
Do the names Merlin, Excalibur, Camelot, Guinevere or Lancelot tell you anything?
Well, this week's post, or rather, this week's legend, originates in the British Islands (as well as everything in this column, apparently) and tells the story and adventures of these legendary characters.
To suit all tastes, I have indications for it in books, movies and series.
First and foremost, I want to make a tea for us. How about getting into the mood of today's topic with me? Great! Come drink with me a very characteristic tea:
Lavender, a herb of common use in the time we're going to talk about. Which is good for your hair, for headache and stress!
Source here.
In the southwest part of England, in Somerset, there is a small town called Glastonbury. It is said to be a magical place because as it's where Avalon is, a well known island in the legends we will talk about today. Glastonbury is home to the remains of the famous Glastonbury Abbey (a monastery built in 7th century).
"Behind it lies an enchanted path that leads you through the apple orchard to the abbey gardens full of Arthurian herbs. As you pass through the orchard and approach the gardens, you find yourself at the foot of the Tor. This garden contains herbs that would be used during the time of King Arthur and Lady Guinevere, and you wonder if Morgan LeFey is watching you from behind an apple tree."
So I invite you to savor with me this delicious tea and travel to these lands and legends of today's guest:
King Arthur
As a big lover of fantasy books, it would be impossible for the Arthurian legends not to be one of my favorite stories of all time.
As you might imagine, it was I who insisted that my Tobias Club's friend would study this subject with me.
King Arthur's legend is still so present in society nowadays that even has popular sayings like: "Merlin's beard". It has been popular since the Middle Ages, that's why there are thousands of literary and cinematographic productions about it.
Out of all the works with which I have had contact, I must admit that I have a preferred one.
These are the books of Bernard Cornwell's trilogy, the Warlord Chronicles. The way he portrays the facts and the main characters is simply charming.
It's the kind of book that makes you sad when you're done.
I've lost count of how many times I've reread these books and even then, whenever I decide to start over, I feel like a new book due to the nuances that take on new meaning with each new reading.
Legends about knights, the search for the Grail (this in the time of the cavalry novels) and stories about secondary characters such as Galahad and Lancelot have permeated popular culture for a long time.
The story takes place around the 5th century BC. We do not have a consensus on this date, and if you read my last post you will know that this is actually the continuation of the story told in Britannia.
The Roman Empire collapsed leaving the British islands "unprotected" and ready for the Saxons' onrush. Behold there arises a fearless warrior whose dream was, to gather all the kingdoms that made up Britain at the time, into one to protect himself from the imminent threat, which in this case were the Saxons.
We will talk more about that in future posts.
This is a recurring theme in British history.
In this book we are introduced to Artur, Guinevere, Merlin, Morgana, Lancelot and Derfel. But who is this last one? It is the narrative solution that Cornwell found to tell the story, it is as if it were our Forrest Gump, he is in all major events but his name is forgotten.
It's easy to get involved in the story that the Monk Derfel tells us. At first he talks about his own life and because of that may take a while for the actual action to begin, but I assure you that it is VERY worth it.
We also get to know a little about Celtic culture, the conflicts between people and the growth of Christianity by the Romans on the islands. Even the story of Tristan and Isolde appears here.
Excalibur is Caledfwlch (Welsh); Merlin is a Druid in an advance age; Lancelot is spoiled and Guinevere, well, I assure you that you will learn to like her by the end of the trilogy.
What is interesting in these books is the realism with which the author portrays the events and legendary characters in this story.
The way the magic is portrayed, as a mixture of charlatanism and induction, is very interesting. We have really fun moments with Merlin, for sure.
This book has many aspects necessary to engage you to the story. Love, honor, virtues and friendship. But also other elements like betrayal, revenge, war and death. I have written to much about this but to be fair, I warned you that it was my favourite book.
If you got to this point, you're a warrior. Congratulation.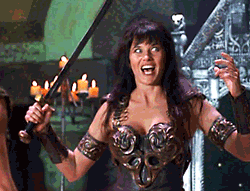 My next recommendation goes back to our tea. Still in the literary field the Mists of Avalon by Marion Zimmer Bradley is a twisted and wonderful novel. It is a series of four books and tells the story of King Arthur from the point of view of the women of his life who lives in Avalon, an island shrouded in mist, to protect itself from Christianity.
In these books, we see some classic elements such as the Water Lady, magic and spells. We also have the growth aspect of Christianity, which appears in the previous statement.
She takes us on a journey to the other side of the female characters, getting us involved in the story. Of course, they all have flaws too as they are complex characters, within a complex context which makes them human and lovely.
Read it, please. You will fall in love. I read the first one in less than 24 hours. The books are a lot smaller than the DG books, I promise.
The Mists of Avalon are so loved that they have a television adaptation.
There is also an unfinished epic book by J. R. R. Tolkien (author of The Lord of the Rings) edited by his son Christopher Tolkien, called The Fall of Arthur, which I recommend to all who wish to know more about this legend.
I will recommend some movies, I do not particularly like some of them, but it is important to understand that there are many interpretations of the legend. There are lots of productions, but I'll start with a 1967 classic:
Another one is King Arthur of 2004 starring Clive Owen as Arthur and Keira Knightley as Guinevere. This movie shows how the kingdoms were left after the Roman withdrawal. He has some incongruities, the script is not the best, but it's worth spending your time on a Saturday night when everybody's partying and you're home… with nothing else to do.
They recently released another movie about King Arthur but I confess I'm not so sure about it (I think I'm very attached to the Bernard Cornwell's version and I still expect an adaptation of it, which I hope one day will happen).
I still have not had the guts to watch but if you have already seen, leave your review here in the comments.
As for TV shows, we have Camelot, produced by Starz (look at that). I watched the first season, if you are series manic, I recommend watching just to talk to me later. I do not have an opinion formed about this production, it would be nice to exchange some ideas. I am very attached to some aspects of Arthur's legend, which unfortunately are left out here.
There's Merlin, a show more focused on Arthur's famous mentor. I also did not watch it. We have many things to read and watch in our Club , we can't do it all, forgive us!
This is my favourite because it was a big part of my childhood and teenage years. This is from 1998.
I only pointed this one out for the nostalgia of it, because I find this series so playful that it would be impossible to forget it. I almost had to do a deepweb search to remember the name.
Super 90's, right?
Well, that's basically it. We have ammunition for a year, so I suggest taking a sabbatical  to watch it all. I myself wanted to do this just to re watch these indications.
And what about you? Do you know any show, movies or books on King Arthur I failed to mention?  If so, leave it in the comments and we will exchange information!
Au Revoir!
Until next week, more specifically on Thursday, yes, let's change the day!  Prepare the tea, you will need!
#PayMyTherapy
#PayMyTea
#TheTobiasClub